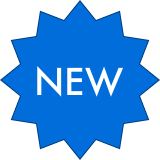 SAFARI EXTENSION
The Nihongo Safari Extension adds furigana or romaji to any webpage, anywhere on the web.

Tap on any word to see its definition, right inside Safari. Tap on the definition to jump over to Nihongo and see example sentences, alternative spellings and more.

Demonstration Video
---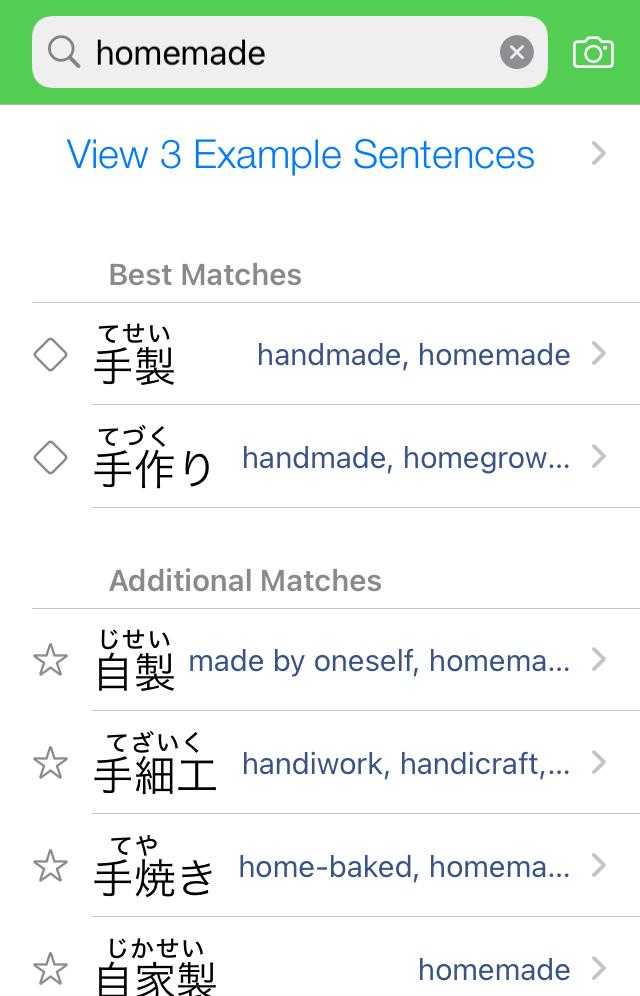 INTUITIVE SEARCH
Search for words, kanji, and example sentences all in one place.

Our dictionary is made to find what you're looking for fast, with the words Japanese speakers actually use at the top of every search result.
---
WORD COMMONALITY
Have you ever tried to use a word you looked up in the dictionary, only to find out that no one has ever heard of it?

Every word in Nihongo is marked as common, uncommon, or rare, so you can avoid those embarassing moments.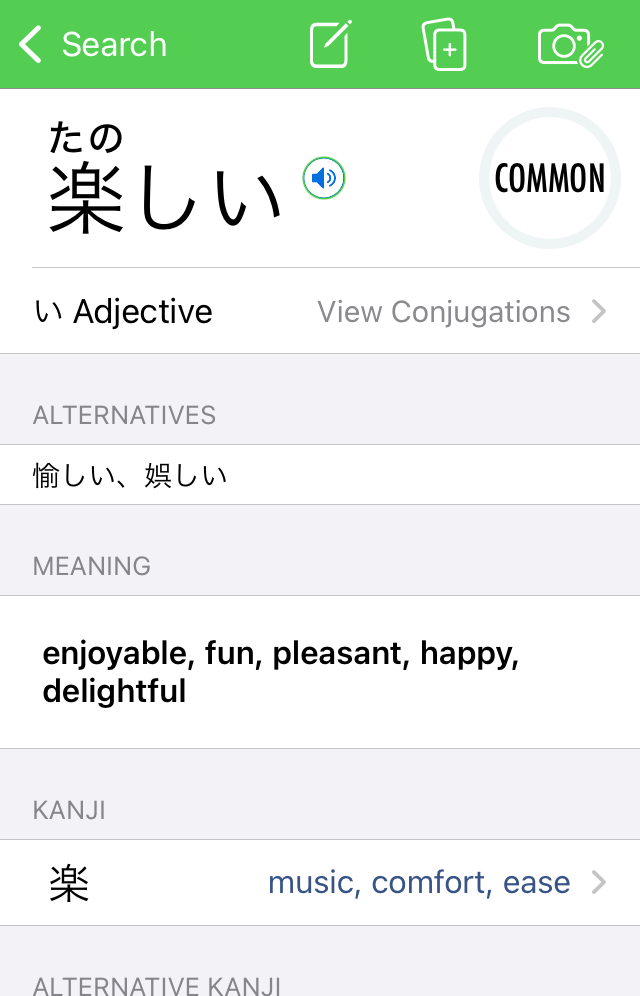 ---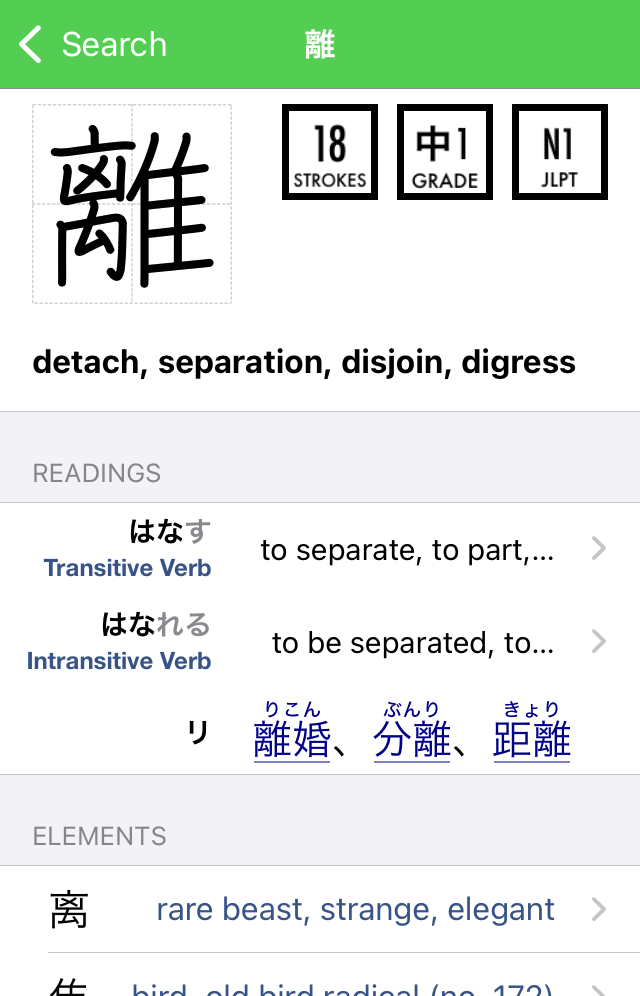 KANJI DONE RIGHT
Our kanji entries highlight the commonly used words you need to know to understand each kanji.

Standalone words are called out individually, so you can quickly identify transitive/intransitive verb pairs.
---
READ JAPANESE QUICKLY WITH CLIPPINGS
Tired of looking up words one-by-one? Paste in Japanese text, and we'll turn every word into a link to its definition. We'll even add furigana.

All clippings are saved, so you can come back and finish reading later if you need to.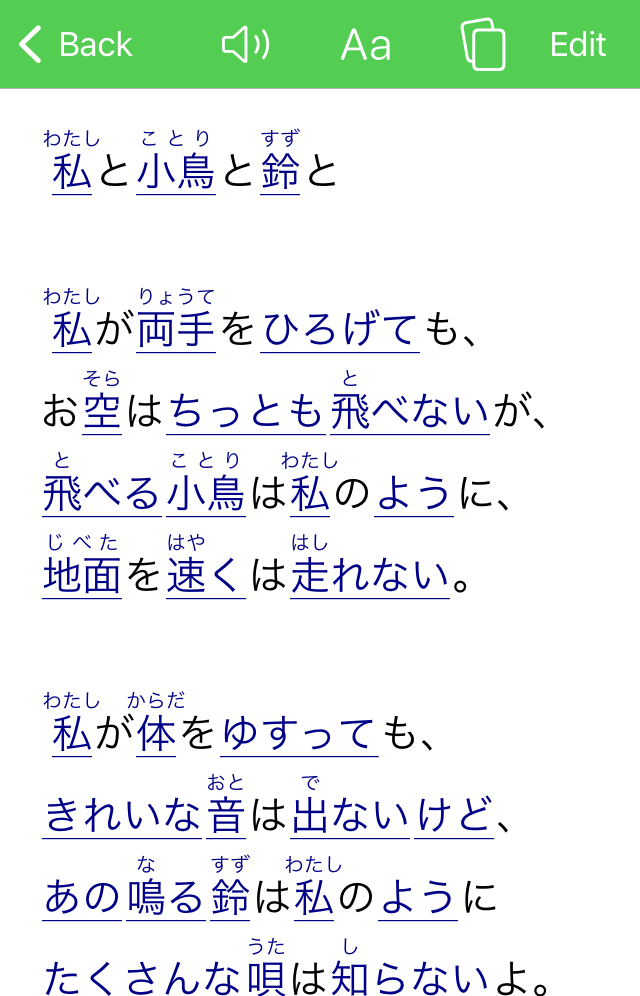 ---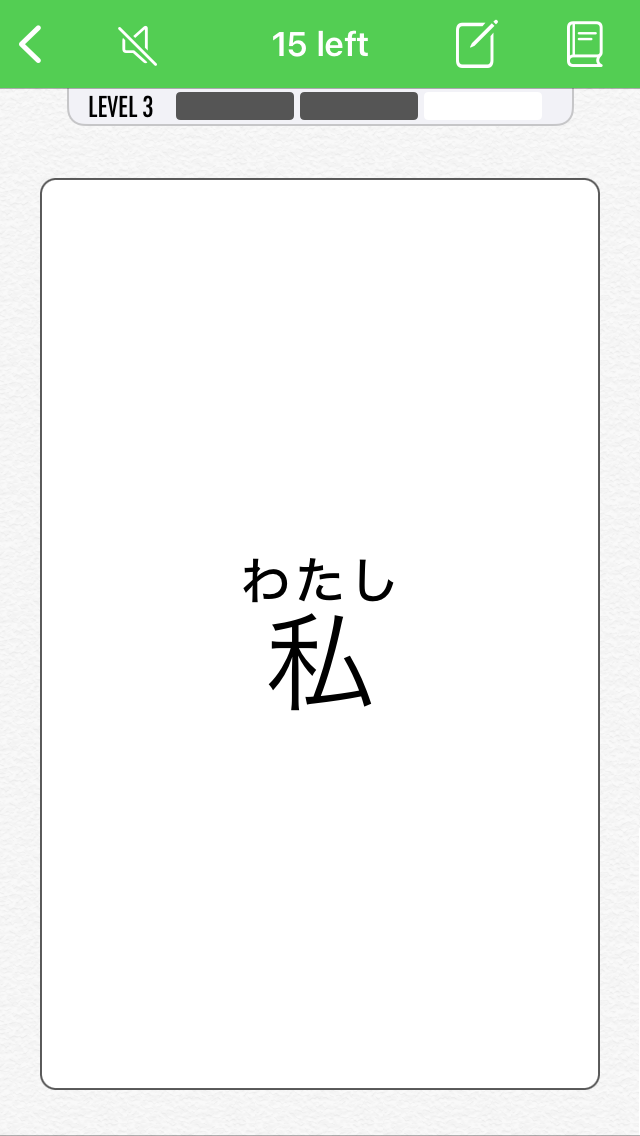 FLASHCARDS WITH CONTEXT
Context is the key to remembering vocabulary.

Nihongo automatically generates flashcard decks from your clippings and your dictionary history, so you can focus on studying the words you're actually using.
---
LEARN KANJI IN CONTEXT
Our context-focused approach applies to kanji too.

Kanji flashcards include a drawing area, so you can test your ability to write kanji. We prompt you to fill in the missing kanji from words you already know, so you always have context for what you're studying.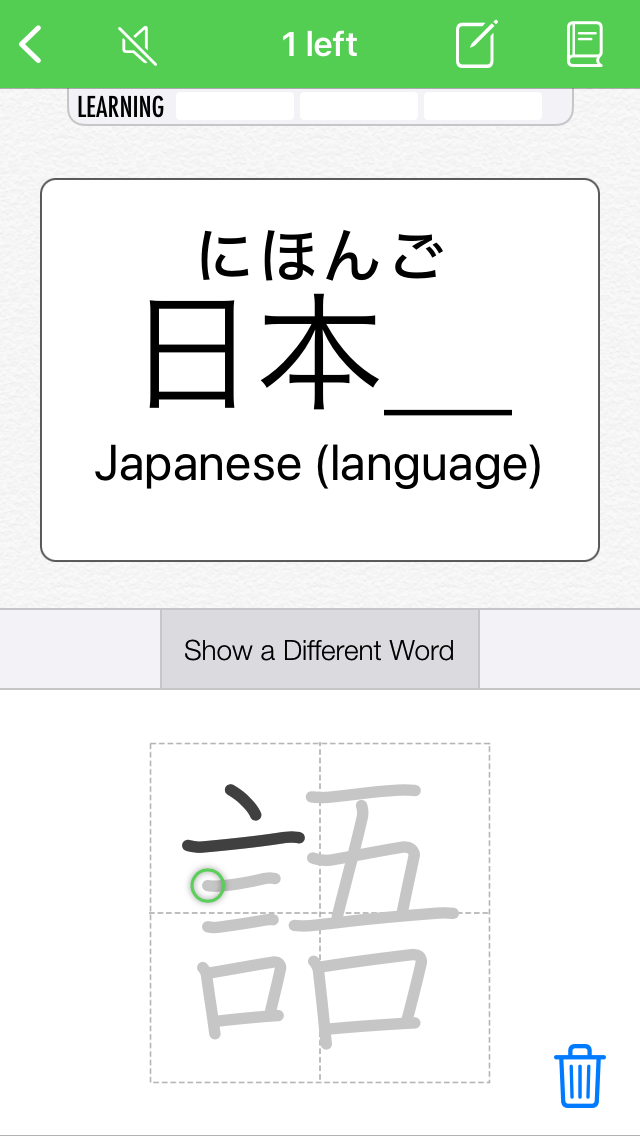 and more...
Spaced Repetition
Our unique learning system is easier to use than other spaced repetition systems. We don't penalize you for missing a day, so you can stop and start whenever's convenient for you.
Level Up
Every word in Nihongo has a level, and the more you study the more you level up. Just pretend you're grinding towards that relic weapon.
Learn faster
Nihongo's flashcard system is designed to maximize the amount you learn for every minute you spend studying.
Comprehensive
Nihongo contains entries for over 170,000 words, 165,000 example sentences, and 6000 kanji.
Advanced Learners
Nihongo is great for professional translators and advanced learners. With flashcards generated from clippings, you can focus on the words that are relevant to you.
Great For Long Text
Create a clipping from a long piece of text, like a chapter of a book, and Nihongo can create a flashcard deck with only the frequently used words.
Learns What You Know
To make studying more efficient, with Nihongo you only study the words you don't already know.
iPad Multitasking
Nihongo supports split-screen multitasking on the iPad. Easily lookup words while you use any other app.